The Sinking of the Laconia
by Alan Bleasdale
Directed by Uwe Janson
Produced by Jonathan Young
for Talkback Thames and Team Worx
During World War II a German U-boat sinks a ship carrying Italian prisoners of war and defies orders to rescue 400 survivors. By doing so it becomes a target for Allied planes.
These true events, dramatised with great humanity by Alan Bleasdale caused German commanders to decree that U-boats must never again stop to pick up survivors, a decision that reverberated powerfully at the Nuremberg trials.
Cast: Brian Cox, Andrew Buchan, Lindsay Duncan, Jodi Balfour, Ken Duken, Morven Christie, Jacob Matschenz, Paul Hilton.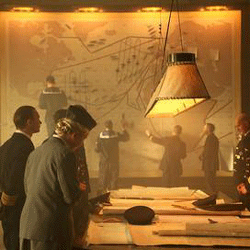 Music - Adrian Johnston
Conductor - Terry Davies
Solo Viola - Paul Silverthorne
Solo Vocals - Melanie Pappenheim
Solo Timpani - John Chimes
Orchestra Leader - Sonia Slany
Musicians' Contractor - Isobel Griffiths
Music Preparation - Colin Rae
Recorded at Angel Studios and British Grove Studios, 22nd & 29th November 2010
Mixed by Steve Parr at Hear No Evil
Cinematographer - Michael Schreitel
Editor - Matthew Newman
Casting Directors - Rachel Freck & Nina Haun
Production Design - Knut Loewe
1st broadcast on BBC2, January 6th & 7th, 2011