"The Voysey Inheritance"
by Harley Granville-Barker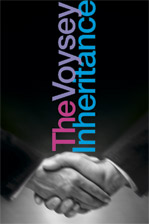 Of course, it's pleasant and comfortable to keep within the law.... then the law will look after you. Otherwise you have to look pretty sharp after yourself. You have to cultivate your own sense of right and wrong.... deal with your own justice. But that makes a bigger man of you, let me tell you.
Director - Peter Gill
Designer - Alison Chitty
Lighting - Hartley T.A. Kemp
Music - Terry Davies
Cast includes - Julian Glover, Doreen Mantle, Mark Tandy, Lucy Briers, Andrew Woodall, Sarah Mowat, Dominic West, Martin Hutson, Kirsty Buchell, Iasbella Calthorne, Joseph Thompson, Nancy Carroll, John Nettleton, John Normington.
Violinists - Anna Hemery, Elspeth Cowey
Harpist - Hayley Dredge
Sound - Yvonne Gilbert
National Theatre - 18th April - 7th June 2006
information & photographs from the National Theatre
Press reviews:
Telegraph Charles Spencer 27/06/04
'Harley Granville Barker's wonderfully rich and satisfying play feels as up-to-date as tomorrow's headlines.'
'The period atmosphere is beautifully evoked in Peter Gill's loving production and by Alison Chitty's satisfying solid naturalistic designs.'
'By keeping the play so firmly in period Gill allows us the pleasure of spotting contemporary resonances for ourselves. And throughout one marvels at Granville Barker's gift of bringing a dozen characters to vivid life as well as creating such a persuasive group portrait of a family and a thundering good plot.'
'This is exactly the kind of large-scale thought-provoking classic the National Theatre ought to be reviving.'
'This is a great play that finds the National Theatre at the top of its game.'
Guardian Michael Billington 26/04/06
FOUR STARS
'Harley Granville Barker's astonishing play.'
'Peter Gill's excellent production proves that the play is more than a topical assault on financial fraud; it is also a comprehensive attack on Edwardian England. Like Ibsen's Ghosts, it is a play about a poisoned inheritance.'
'Gill's production effectively reminds us of the play's ramifications … and of the subversiveness of Granville Barker's well-upholstered play.'
'The acting has the in-depth quality of the National at its best.'
'A first-rate evening.'
The Times Benedict Nightingale 26/04/06
FOUR STARS
'Peter Gill's superficially lavish, emotionally lucid revival convinces me that Barker wrote nothing finer than The Voysey Inheritance.'
'Partly, the play is an exposé of hypocrisy, pretence and the Maxwell-like display people mistake for financial solidity … But Barker goes far further, using characters to ask radical questions about the correlation of need and possession, the sources of wealth, the happiness money can and can't bring, the subtle corruptions it causes.'
'Strong stuff.'
Financial Times Alastair Macaulay 27/04/06
'In The Voysey Inheritance, Harley Granville Barker proved himself more substantial than George Bernard Shaw, D. H. Lawrence, Noel Coward, Terence Rattigan and John Osborne. Depicting pre-1914 English society, he brilliantly catches the intersection of finance, law, loyalty, hypocrisy, family and marriage, and makes them so real that they seem to speak about today's society too.'
'The play, richly textured, is about right and wrong, about public honour and private decency, sincerity versus sham.'
'The cast abounds in first-rate performances.'
'A private dilemma to be relished by all.'
'This production, a major event, does the honour that is due to Harley Granville Barker.'
Evening Standard Nicholas de Jongh, 26/04/06
FOUR STARS
'The Voysey Inheritance still remains a great family drama of the British 20th century.'
'Peter Gill's atmospheric, exquisitely acted production.'
'With sardonic, satirical relish and some sadness Barker exposes all those dangerous character-flaws: Hypocrisy and humbuggery, secrecy and greed, financial fraud and selfishness come on hand-in-hand, betraying no sense of shame.'
'There is a startling Ibsenite ring to the fraught first scene … The situation is at once shocking and blackly comic.'
'The scene in which Edward breaks the news of his father's embezzlements and speculative profiteering to the family in general and Doreen Mantle's amusing, inscrutable mother in particular, marks a high-water point in English theatre. Its combination of satirical comedy, with its critique of self-righteous middle-class Edwardians and its angry pathos is very fine.'
'Glorious.'
Sunday Times Christopher Hart 30/04/06
FOUR STARS
'A substantial and satisfying seven-course dinner of a play, with cigars to follow, so rich in characterisation and what you could only call 'moral comedy' that it makes contemporary playwriting look cold and anaemic. The National's production, confidently directed by Peter Gill, is sensitive to exactly what makes Granville Barker an enduring great. It is also superbly acted.'
'A delight.'
Mail on Sunday Georgina Brown 30/04/06
FOUR STARS
'Wonderfully rich drama.'
'Premiered 100 years ago, before Robert Maxwell had even been thought of, it is nevertheless a thoroughly modern, compelling story of greed, corruption and, most important perhaps, of fathers and sons, a polluted inheritance and the terrible legacy of guilt.'
'Edward's emergence, splendidly charted by Dominic West, from spineless goody-goody to an impressive figure with moral backbone; a worthy husband of Nancy Carroll's beautiful clever Alice.'
'Peter Gill's production superbly recreates Barker's penetrating portrait of Edwardian England, the men running the show over port and cigars, the women waiting in the wings.'
Daily Express Ruth Leon 26/04/06
'Here is a Harley Granville Barker play which – had it not been written 100 years ago – might well be about our own time, so acutely does it analyse and send up British hypocrisy.'
'Peter Gill has directed the cast with his trademark understated delicacy. He succeeds in finding the greed but also the humanity in all the characters.'
'The mordant humour of this blissful satire exposes the frightening underbelly of those who control wealth and power without accountability.'
'Like Arthur Miller, Granville Barker liked to explore the conflict between public good and private comfort. Greed, he says, is like an addiction but, unlike most addictions, it is contagious.'