Guys and Dolls
A musical fable of Broadway based on a story and characters by Damon Runyon.
Best Musical: 1982 - 1986 and 1995 - 1996
Music and lyrics by Frank Loesser.
Book by Abe Burrows and Jo Swerling.
Originally produced on Broadway in November 1950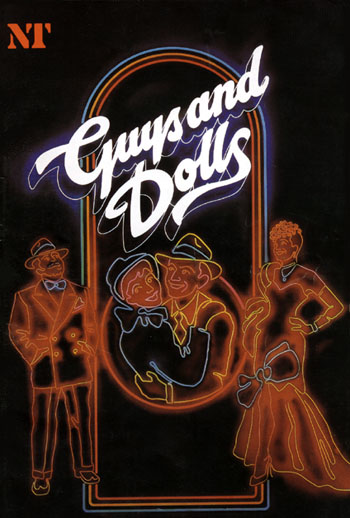 Royal National Theatre production, 1982
(Best Musical in all West End awards)
Director - Richard Ayre
Choreographer - David Toguri
Musical Director - Tony Britten
Orchestrators - Tony Britten and Terry Davies
Designer - John Gunter
Costume Designer - Sue Blane
Lighting Designer - David Hersey
Original RNT Cast included:-
Bob Hoskins, Julia McKenzie, Julie Covington, Ian Charleson, Bill Paterson, David Healey, Imelda Staunton, Barry Rutter and Jim Carter.
The production ran at the Royal National Theatre from March 1982, transferring to the Prince of Wales Theatre for a further year from June 1985. It was revived at the Royal National Theatre in 1995/1996.
CD: The original RNT cast recording is available on CDMFP 5978