Lady in the Dark
Best Musical, 1997 London Evening Standard Awards
Royal National Theatre production, 1997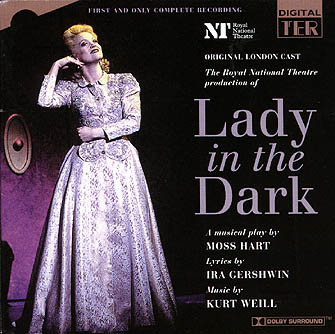 Music by Kurt Weill / Lyrics by Ira Gershwin / Book by Moss Hart - Original production: Alvin Theatre, New York, 23rd January, 1941 starring Gertrude Lawrence.
Director - Francesca Zambello
Choreographer - Quinnie Sacks
Music Director - Mark W Dorrell
Orchestrations - Terry Davies
Original Orchestrations - Kurt Weill
Music Consultant - bruce d mcclung
Designer - Adrianne Lobel
Costume Designer - Nicky Gillibrand
Lighting - Rick Fisher
Cast included:-
Maria Friedman, Steven Edward Moore, James Dreyfus (Olivier Award for Best Supporting Performance in a Musical), Charlotte Cornwell and Adrian Dunbar.
The cast recording is available on CDTER 1244.
(Terry also orchestrated the first British production of Lady in the Dark for the Nottingham Playhouse in 1981 - 1982. The production starred Celeste Holm.)
CD:
Lady in the Dark (Jay Productions) CDTER1244