The Car Man
Purchase CD online
The Car Man (main website)
The Car Man - stage fit up movie
The Car Man - Sadler's Wells movie
Audio samples (on this page)
Video (youtube)
Subtitled 'An Auto-Erotic Thriller', Matthew Bourne's new dance scenario follows the dreams and passions of a small mid-western community, shattered by the arrival of a handsome young stranger. Fuelled by heat and desire, the inhabitants are drawn into a spiral of lust, suspicion and tragic consequences.
"Best Musical Event", Evening Standard Awards, 2000
Winner of the Manchester Evening News Theatre Award
Directed and choreographed by double Tony award winner Matthew Bourne.
Music by Terry Davies
with Rodion Shchedrin's Carmen Suite
based on Bizet's Carmen.
Produced by Katharine Doré for Adventures in Motion Pictures.
Musical Director - Brett Morris
Sound Design - Matt McKenzie/Autograph
Keyboard Programming - Philip Adams
Music Preparation - Colin Rae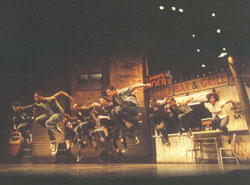 Orchestra Leader - Gina McCormack
Orchestral Management - JB Management and Consultancy Services
Designer - Lez Brotherstone
Lighting - Chris Davey
The production has been filmed for Channel 4 and was screened Christmas 2001.

Previous Tour dates:
Municipal Theatre, Lisbon: 16th - 20th May
Carre Theatre, Amsterdam: 29th May - 3rd June
Tel Aviv, TAPAC - 12th-23rd June 2001
U.S. tour 21st August to 9th December 2001:
21st August-2nd September - Ordway Theatre, St. Paul
5th September-28th October - Ahmanson Theatre, Los Angeles
30th October-3rd November - Performing Arts Center, UCAL, San Francisco
14th-18th November - Auditorium, Chicago
20th-25th November - Hummingbird Center for Performing Arts, Toronto
Saranne Curtin and Alan Vincent.
Photo: Bill Cooper

Will Kemp.
Photo: Bill Cooper