When the Lights Go On Again
by Dudley Stevens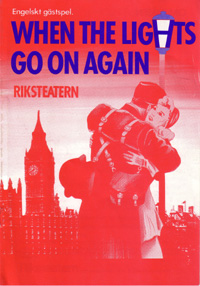 A musical about a family from the East End of London during the blitz, featuring the songs of the time.
Directed by Dudley Stevens
Designed by Anthony Ward
Music Directed by Terry Davies
Choreography by Sheila Irwin
Cast: Pip Hinton, Glyn Jones, Sue Holderness, Tim Rober, Bronwen Williams, Dudley Stevens, Deryk Parkin.
Pianist: Terry Davies
Produced by the Swedish National Theatre, touring Sweden in January - March 1981.