The Mystery Of The Wolf
(Suden arvoitus)
Script: Heikki Vuento
Director: Raimo O Niemi
Cinematography: Kari Sohlberg
Sound: Paul Jyrälä
Editing : Jukka Nykänen
Production: Leila Lyytikäinen, Claes Olsson
Co-Producer: Börje Hansson / Filmlance International AB, Mike Downey / Killerpic Ltd., Markku Flink / POEM
Music: Sarah Class
Conductor: Terry Davies
Orchestral Leader: Janice Graham
Orchestral Contractor: Hilary Skewes
Recorded at Air Lyndhurst Studios by Rupert Coulson, 21st & 22nd July, 2006
Actors:
Tiia Talvisara, Janne Saksela, Vuokko Hovatta, Peter Franzén, Miia Nuutila, Kari-Pekka Toivonen
Synopsis: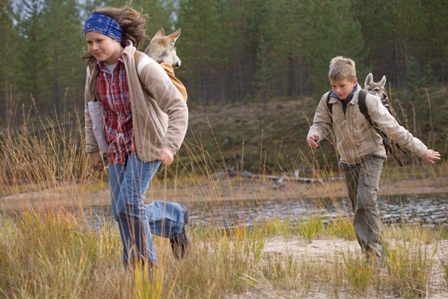 12-year-old Salla loves nature and enjoys the wilderness where she feels at home. She lives with her adopted parents in a small village where her father works as a policeman. One day Salla´s biological mother Laila returns to the village after a ten-year absence, upsetting the inhabitants and even scaring many of them.
The adventure starts when Salla rescues two wolf-cubs from poachers. Though an endangered species, wolves are a threat to the local livelihood, reindeer husbandry. The hiding and rescuing of the cubs from the poacher Venesmaa becomes a mission during which Salla has to trust her instincts, her best friend and even her long lost mother.
Mystery of the Wolf is also a story about how Salla faces her own past. Besides blood ties, Salla and Laila are united by their mysterious connection with nature and animals. In spite of her youth, Salla has to brave difficulties and make decisions that challenge the community and that simultaneously force her to define her own relationship with her two mothers.
Mystery of the Wolf is a family film, an exciting adventure in the wilderness of the Finnish Lapland.
Production:-
Kinoproduction Oy
Pasilan vanhat veturitallit
00520 Helsinki
Tel. +358 9 685 0460
Fax. +358 9 685 046 10
Email. kino@kinoproduction.fi
Internet www.kinoproduction.fi
Distribution in Finland
Nordisk Film Theatrical Distribution Oy
John Stenbergin ranta 2
00530 Helsinki
Tel. +358 9 476 4460
Fax. +358 9 476 44640
Internet www.nordiskfilm.fi