Glorious 39
Written and Directed by Stephen Poliakoff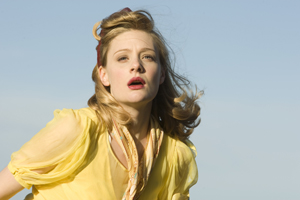 Produced by Barney Reisz
Glorious 39 is set between present-day London and the idyllic British countryside in the time before the beginning of the Second World War. At a time of uncertainty and high tension, the story revolves around the formidable Keyes family, who are keen to uphold and preserve their very traditional way of life. The eldest sibling Anne is a budding young actress who is in love with Foreign Office official Lawrence, but her seemingly perfect life begins to dramatically unravel when she stumbles across secret recordings of the anti-appeasement movement. While trying to discover the origin of these recordings, dark secrets are revealed which lead to the death of a great friend. As war breaks out Anne discovers the truth and flees to London to try to confirm her suspicions, but she is caught and imprisoned and only then does she finally begin to discover how badly she has been betrayed.
Music - Adrian Johnston
Cinematography - Danny Cohen Film Editing - Jason Krasucki
Cast includes Bill Nighy, Romola Garai, Julie Christie, David Tennant, Christopher Lee, Hugh Bonneville, Juno Temple, Jenny Agutter and Jeremy Northam.
Music performed by the BBC Concert Orchestra.
Conductor - Terry Davies
Lead Orchestrator - Terry Davies
Orchestrators - Ben Foster, Matt Dunkley and Andrew Fisher
Music Score Coordinator - Catherine Manners
Music Preparation - Colin Rae and Mike Hornett
Recorded at Angel Studios by Niall Acott on May 7th, 8th & 9th, 2009
www.glorious39-movie.com - trailer