Directed by Stephen Frears
Written by Nicholas Martin
Starring Meryl Streep, Hugh Grant and Simon Helberg
with Rebecca Ferguson, Nina Ariana, John Kavanagh, David Haig, Christian McKay, Jonathan Plowright and Aida Garifullina as Lily Pons.
Terry was the Music Director developing the vocal routines with Meryl and Simon and overseeing all on screen music.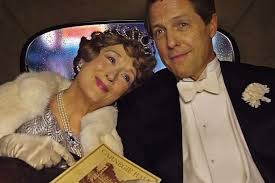 Produced by Michael Kuhn and Tracey Seaward
Executive Producers - Cameron McCracken, Oliver Kassman, Christine Langan, Nicholas Martin & Malcolm Ritchie.
Music Supervisor - Karen Elliott
Supervising Music Editor - Gerard McCann
Orchestral Contractors - Isobel Griffiths & Andy Brown
Score composed and conducted by Alexandre Desplat
Cinematographer - Danny Cohen
Film Editor - Valerio Bonelli
Production Design - Alan MacDonald
Costume Design - Consolata Boyle
Sound Mixer - Peter Lindsay