Brideshead Revisited
A film by Julian Jarrold
Directed by Julian Jarrold
Adapted from the book by Evelyn Waugh by Jeremy Brock and Andrew Davies
Produced by Kevin Loader and Douglas Rae
www.bridesheadrevisited-themovie.com
film clips:- clip 1 • clip 2 • clip 3 * clip 4
soundtrack available on Chandos: CHAN10499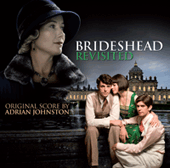 Cinematogaphy - Jess Hall
Music - Adrian Johnston
Production Design - Alice Normington
Editing - Chris Gill
( photos below by Nicola Dove/Miramax )


Cast includes Matthew Goode, Ben Whishaw, Hayley Atwell, Emma Thompson,
Michael Gambon, Greta Scacchi, Anna Madeley and Felicity Jones.
Music Conducted by Terry Davies
Played by the BBC Philharmonic Orchestra
Leader: Yuri Torchinsky
Piano Soloist: Jonathon Scott
Cello Soloist: Peter Dixon
Recorded at the BBC's Manchester studios by Rupert Coulson, 11-14 February 2008
Music Supervisor - Catherine Manners
Music Preparation by Colin Rae and Mike Hornett
"The orchestral playing under Terry Davies catches the air of languor in the music so well and there are well deserved credits for the contributions on violin, cello, guitar and piano. It's a fine achievement and one that can hold its head alongside Geoffrey Burgon's benchmark score for the Granada TV series from 1981." (Gramophone)
Several dance band pieces were arranged by Terry Davies to be played in scenes on a transatlantic liner and at Julia's birthday party:
With the Rumba Playing - music and lyrics by Terry Davies
I Want To Be Happy - by Vincent Youmans and Irving Caesar
Sitting In a Corner -
These songs were played by
Chris Garrick (violin)
Chris Lawrence (Bass)
Paul Clarvis (drums)
Colin Green (Banjo)
John Etheridge (guitar)
Jamie Talbot, Stan Sulzmann and Phil Todd (saxes)
Derek Watkins (trumpet)
Mark Nightingale (trombone)
Owen Slade (tuba)
Frank Ricotti (maracas).