Play Without Words
Devised and directed by Matthew Bourne
with music by Terry Davies
Winner: Olivier Award for Matthew Bourne and Terry Davies for Best Entertainment.
Winner: Olivier Award for Matthew Bourne and the Company for Best Choreography.

New York's Drama Desk Awards 2005 Nominations:
Outstanding Director of a Musical
Outstanding Choreography
Outstanding Music
Outstanding Set Design of a Musical
Outstanding Costume Design
Unique Theatrical Experience

Order CD of Play Without Words

Presented at the National Theatre in their Transformations season in the Lyttleton Theatre from 20th August to 14th Sepetmber, 2002

Chelsea 1965.  Behind the privileged facade of domestic order lies a struggle for power, territory and sexual domination.

Design -  Lez Brotherston
Lighting - Paule Constable
Musical Director - Michael Haslam
Sound - Christopher Shutt
Music Preparation - Colin Rae

Cast includes Scott Ambler, Belinda Lee Chapman, Saranne Curtin, Will Kemp, Stephen Kirkham, Michaela Meazza, Eddie Nixon, Ewan Wardrop, Richard Wondsor and Alan Vincent.

Musicians:
Michael Haslam (piano/MD), Sarah Homer (clarinets/tenor sax)
Derek Watkins (trumpet/flugelhorn)
Tim Harries (bass)
Justin Woodward (percussion)
Winner of Olivier Awards for Best Entertainment and Best Choreography, Play Without Words was the major success of the National Theatre's Transformations season. It is the second collaboration between director/choreographer Matthew Bourne and composer Terry Davies. Following its National Theatre revival it tours the UK followed by Tokyo, New York, Los Angeles and Moscow.
"At the end of a fantastic year, the National presents a fantastic show. Using a new jazz score of amazing atmospheric brilliance by Terry Davies, Bourne recreates the sixties while scoring beautiful modern points against that era."
Daily Mail
"Terry Davies's jazz score is quite superb, delivered by a splendid band"


Daily Telegraph

"As well as a sexily agile ensemble, there's Terry Davies's marvellously evocative jazz score"

The Times

above: cd cover designed by Patrick Eley

 

 

Photo right by Hugo Glendinning

 

 

Photo below by Stephen Cummisky

Matthew Bourne & Terry Davies
Glendas
Photo by Hugo Glendinning
Tonys
photo by Hugo Glendinning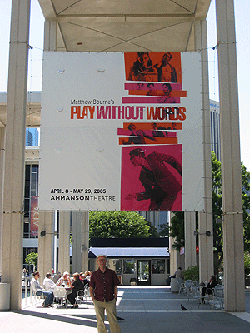 Terry Davies's original score is itself a thoroughly tasty homage to to the jazz of the period. Reflecting Mr. Bourne's affection for the era as it lives on in movies, it seems to be composed of moody piano riffs, lonesome horn solos and cigarette smoke. The live band is superb.
New York Times
Matthew Bourne's "Play Without Words" begins with the wail of a jazz trumpet. A dancer blowing the horn is at the top of a staircase in a townhouse in London, which we know because perched nearby is an old-fashioned red London phone booth. Terry Davies' marvellous period jazz score makes a perfect aural backdrop for Bourne's stage adaptation of the 1965 Joseph Losey-Harold Pinter film "The Servant"
New York Daily News
"A GROOVILY SHAGTASTIC AND BLAZINGLY ORIGINAL SHOW.
It's been a long time coming, but the National's brave but wildly uneven Transformation season has finally struck pure gold.  Matthew Bourne's Play Without Words is an absolute cracker - funny, sexy, sinister, nostalgic, brilliantly stylish and blazingly original....
To describe the plot is only to hint at the pleasures of this extraordinary piece. For a start, each of the five main characters is played by three identically dressed performers, often simultaneously. The action is accompanied by a tremendous new jazz score by Terry Davies, which sounds like every great Sixties soundtrack you've ever heard, ranging from cheesy lounge music to full-blown freak-out.
The production has also been splendidly designed by Lez Brotherston....and the show's every detail seems satisfyingly spot-on....
But it is with sex, both gay and straight, that Bourne really comes into his own. The piece particularly concerns desire across the class divide, and the sequence in which Anthony fantasises about the maid, dressed in nothing but his cricket sweater, is wonderfully erotic. Even this is eclipsed, though, by the steamy seduction scene on the kitchen table, in which Davies's marvellous music is powered by a dripping tap.
All the performers combine theatrical panache with technical assurance, and this groovily shagtastic, genuinely groundbreaking show must surely have a life beyond the Transformation season."
Telegraph
---
"A vibrant, wicked satire of class conflict and sexual desire set in Swinging Sixties London and told exclusively through movement and music (a fine jazzy score from Terry Davies)."
The Times
---
"Play Without Words is a period piece that is scewed, pointed and darkened with a wickedly contemporary imagination....Terry Davies has also written his slick, atmospheric jazz score exactly to suit Bourne's needs, and the link between dance and music never slackens."
The Guardian
---
"Music and design help Bourne to conjure a convincing Sixties milieu.  Terry Davies's jazzy score is a witty collage played live onstage by an adaptable quintet who lurk in the shadows stage-left.  Davies sets each scene very cleverly: high hat and vibraphone for the nightclub episode;  Jack Strachy's Housewives' Choice for the busy valet at work;  a smooth samba for the drinks party.  Every time a stockinged leg is crossed, Sarah Homer's clarinet is on hand with one of those delicious little noodles of desire - the lounge muscian's answer to the wolf whistle."
Sunday Telegraph
---
"....as the ensemble moves to the beat of Terry Davies' astonishingly feverish original jazz score, Play Without Words plays with the laws of attraction from every point of view until it isn't just the various onstage trios who have been seduced."  Variety
"Are these actors dancing or are they dancers acting?  The movement of Matthew Bourne's Play Without Words is on the cusp between dance and mime.  Each action is exceptionally precise; but you can hardly tell whether it's impelled by an acting decision or a dance rhythm.  Whereas Bourne's last work, The Car Man, really was a thriller, Play Without Words is in a different vein: ironic, poetic, ambigous.  The effect its performers create is uncanny....
The correspondence with Terry Davies's commissioned jazz score - which has all the cool of early 1960s European jazz - is dazzling.  In places, the music is like film atmosphere; elsewhere it's a keen dance framework.  As ideal are Lez Brotherston's elegant designs, spot-on in their sense of time and place."
Financial Times
---
"A very positive feature is the jazz score written by Terry Davies and played by a small group under Michael Haslam, visible at the side of the stage (the wind players Sarah Homer and Simon Gardner are particularly effective)."
Independent
---
"According to a discouraging programme note, Bourne and composer Terry Davies made up Play Without Words as they went along.  Bourne understatedly confesses: 'Starting rehearsals when there is no play and no music - it's quite a tough one.'  But hold on....
From the top of a flight of stairs, a trumpet sounds: mournful and sweet.  Three women appear, like mannequins, identically dressed in pearly, sleeveless tops....
Seeing triple could be comic but Davies's wonderful, sultry music complicates that reaction: the mood is coquettish but not always light."
The Observer
---
Opened at the National Theatre's Lyttleton Theatre as part of its Transformations season on 23rd August 2002.
Revived in the Lyttleton Theatre from 16th December 2003
2004
National Theatre
10th Dec 03 - 6th March 2004
Norwich
15th - 20th March
Edinburgh
22nd - 27th March
Milton Keynes
29th March - 3rd April
Newcastle
5th - 10th April
Salford
12th - 17th April
High Wycombe
19th - 24th April
Birmingham
26th April - 1st May
Woking
3rd - 8th May
Bromley
10th - 15th May
Plymouth
17th - 22nd May
Tokyo
25th June - 25th July

---

2005
Brooklyn Academy of Music, New York
15th March - 3rd April
Ahmanson Theatre, Los Angeles
8th April - 29th May